I'm delighted to announce that my new book, The Alpha Protocol, is out today. It's a science fiction novel in the space opera style and is the first book in a new series. It's set a few hundred years in the future, when mankind has spread out into the galaxy. In all the time we've been out there, humanity hasn't encountered any trace of aliens. Until now.
The story follows a young naval officer called Jack Samson, as he and his crew make some breath-taking discoveries that will change everything, and definitively answer the ages old question – 'are we alone out here?'
The eBook is out today! You can get your copy of The Alpha Protocol now at these links:
While this is a new genre for me, it is one I've always loved to read, and has been described by one of my early readers as just like my fantasy novels, but set in space! My ARC group readers – many of whom are new to sci-fi – have really been enjoying it, which bodes well for my masterplan to turn you all into sci-fi fans! The Alpha Protocol was a lot of fun to write, so I hope you'll take a chance on it, and if you do, that you really enjoy it.
I'm particularly pleased with the wonderful cover art created by Fred Gambino, which far exceeds what I was hoping for: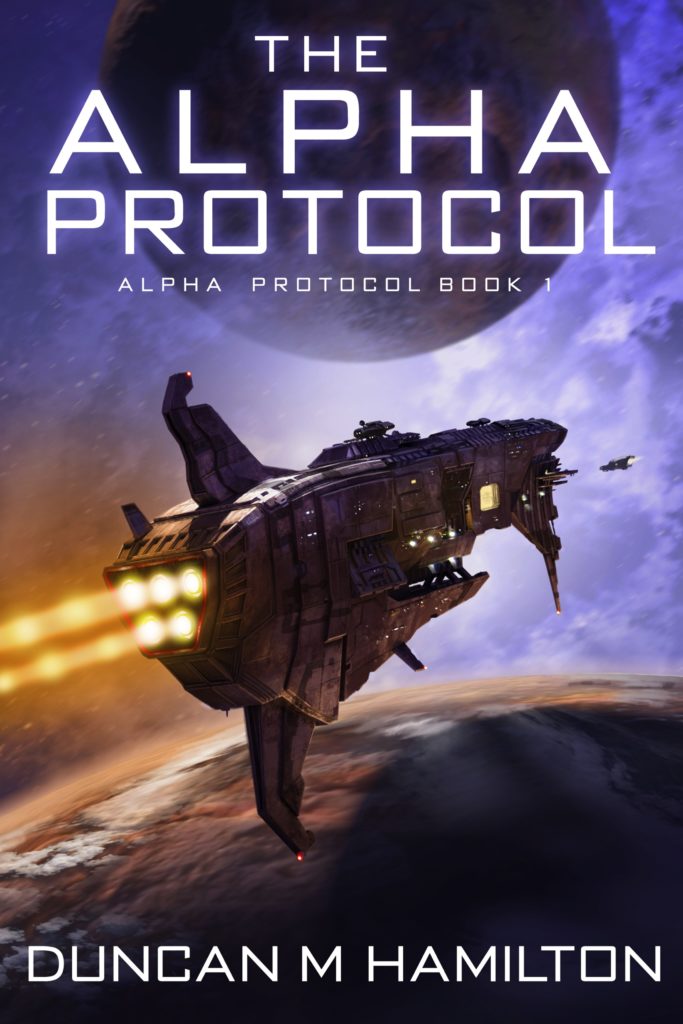 Here's the back cover copy to give you a little more flavour on what The Alpha Protocol's about:
Naval Officer Jack Samson thought a posting to the frontier of human inhabited space was the death blow to his career. He couldn't have been more wrong. A routine inspection of a small merchant vessel leads to devastating loss and the discovery of strange, fascinating objects.

As astonishing discoveries unfold, a mysterious and hostile ship proves that Samson has a competitor in unlocking the secrets of an ancient alien civilisation, and that humanity might not be alone in the galaxy after all.
Due to covid postage delays, I've only just received paperback proofs so the paperback will be available in a couple of weeks, once I've had the chance to go through them. The audio will be following in June, narrated by the excellent Scott Aiello, whose performance will bring a great additional dimension to the story. I'll be sure to let you know when they are available.
If you enjoy The Alpha Protocol, and have the time, please consider leaving a review for it over on Amazon – it really helps me out.
As a final note, I have a new fantasy novel on the way, which I'm planning to release this coming April. It takes us back to the Middle Sea with some new characters (and old), and a terrifying new enemy. I'll let you know all about that closer to the time. Until then, I hope you'll give The Alpha Protocol a chance!